The ASI Institute (ASI-I) is the aviation management competency building division of Aviation Strategies International (ASI). ASI-I works closely with its Client to develop a sustainable advantage with a focus on recharging, rethinking and refining their knowledge, skills and abilities.
ASI-I has developed a unique best-in-class Competency Building Needs Assessment model that can systematically identify a performance gap that would call for a Talent Development Master Plan, which would incorporate recommendations for providing the best possible talent development solution.
ASI-I focuses primarily on aviation management talent development. It favours an in-depth understanding on how to design learning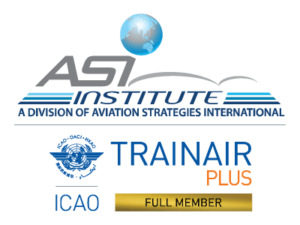 packages and environments for professionals and is fully qualified to develop individual courses that target specific competencies and to establish complete professional accreditation programs. As the need for qualified aviation managers, leaders and executives continues to grow, ASI-I can also work with organizations to build in a succession planning strategy, either from transitioning its own managers to leaders or attracting and retaining high potential candidates from within or outside the industry.
With its experienced team of air transportation industry specialists, organizational psychologists and educational technologists, ASI-I offers a wide variety of talent and organizational development services that range from competency assessment, to classroom-based and online blended learning, to work-based coaching and mentoring, to collaborative learning strategies, such as communities of practice.
The ASI-I is a Full Member of the International Civil Aviation Organization TRAINAIR PLUS Programme.
For more information about ASI's competency development services, visit the ASI Institute Website.