Dr. Mohammed Aziz awarded the Jerome F. Lederer Award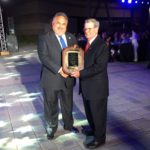 Montréal, November 30th, 2018 – Aviation Strategies International (ASI) would like to congratulate Dr. Mohammed Aziz, Senior Practice Executive for Air Transportation Security and Airline Safety, for being awarded the prestigious Jerome F. Lederer Award by the International Society of Air Safety Investigators (ISASI). The Jerome F. Lederer Award is presented annually by the ISASI for outstanding lifetime contributions to technical excellence in furthering aviation accident investigation and achieving ISASI objectives, including enhancing aviation safety through the continuing development of investigation techniques.
Over the course of his distinguished career, Mohammed Aziz has become an internationally-recognized expert in the field of aviation safety and security. In addition to his role at ASI, he is Advisor to the Chairman of Middle East Airlines (MEA) since 2002, where he previously served as MEA's Head of Corporate Safety. He has led several MEA internal investigations and has been appointed Investigator-in-Charge by the Lebanese government for some of its own aviation accidents and incident investigations. He was also appointed to the prime ministerial task force for Lebanon's National Civil Aviation Security Program (NCASP) and has represented Lebanon on the International Civil Aviation (ICAO) Aviation Security (AVSEC) Panel.