Aviation Strategies International Publishes Global Megatrends and Aviation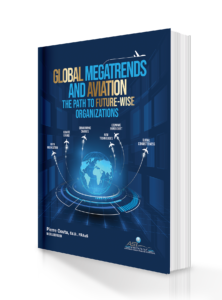 Montreal, April 15, 2019 – Aviation Strategies International (ASI) is pleased to announce the publication of Global Megatrends and Aviation: The Path to Future-Wise Organizations. Intended for aviation practitioners and executives, the book will also be of great interest for all audiences.
Global megatrends are the disruptive forces that are shaping the world of tomorrow and aviation organizations will not be spared. Rapid urbanization, climate change, economic shifts of power, and various other forces will bring with not only risks but opportunities.
Dr. Coutu is the founding President, Aviation Strategies International (ASI) and Chair, ASI Institute. He has taught in several Aviation MBA programs at: Concordia University (Canada), the Toulouse Business School (France), and the Beijing University of Aeronautics and Astronautics (China). He is an honorary Fellow of the Royal Aeronautical Society (FRAeS) and an Advisor to the Board of the Global Development Learning Network. In 1996, the Minister of Transport of Poland awarded Dr. Coutu a Medal of Achievement for his special contribution to the development of the Polish Air Transportation sector. In 2011, he became the first recipient of the Airports Council International (ACI), Paul Genton Medal. In 2013, he co-authored Airport Operations (McGraw-Hill). He holds a doctorate in Education from Nova Southeastern University, Miami. Dr. Coutu has been the Executive in charge of the Global ACI-ICAO Airport Management Professional Accreditation Programme (AMPAP) since its inception in 2007.
ADVANCE PRAISE FOR GLOBAL MEGATRENDS AND AVIATION:
"In aviation, we readily adapt to new technology but often do so in isolation from broader contextual factors. This book on megatrends will drive our understanding of the potential scenarios and shock us out of our past complacency."
— Sir Brian Burridge, CEO, Royal Aeronautical Society
"History is littered with examples of corporate giants that became irrelevant by failing to adapt. As an industry that is often slow to change, aviation especially needs to be future-ready. And while we can't predict the future, we can certainly prepare for it – with the right people, the right structures, the right technologies and, most importantly, the right mindset – and this book shows you how."
— Tony Fernandes, CEO, Air Asia Group
"Megatrends are highly complex, and in constant evolution. They have an ever-increasing impact on Air Transportation, particularly as aviation and aerospace have entered a new era. We have to pay much more attention to managing for the Future and being nimble to help shape it. This book provides great food for thought and contributes to new managerial frameworks for tackling the exciting and turbulent future ahead."
— Nancy Graham, President, Graham Aerospace International, former Director of ICAO's Safety and Air Navigation Bureau
"Aviation is a truly global industry. In many countries, it is seen as a major success factor, accelerator and facilitator for economic and societal development. It is critical to developing a holistic view of its driving forces and impacts. The evolution of regulatory frameworks, technology as well as the individual and societal value systems, increasingly dominate the discussion of the future of our industry. This book offers a deep dive into building blocks for the development of possible future scenarios. A "must read" for aviation professionals and industry observers."
— Dr. Michael Kerkloh, CEO, Munich Airport
"This book makes a compelling case to place the development of future scenarios at the centre of strategy-making in the aviation sector. As megatrends come together and buffet aviation professionals and organizations, the authors correctly identify scenario planning as a key methodology that is practical, rigorous and should be deployed when facing conditions of turbulence, uncertainty, novelty and ambiguity."
— Dr. Rafael Ramirez, Director, Oxford Scenarios Program
"This excellent volume distils the global mega-trends and shows how current and emerging leaders can use this to frame their thinking and inform their actions. It is a customized guide for becoming "future-wise" in global aviation, but there is much there for others too."
— Prof. Glenn Withers, Ph.D. (Harvard) Global Board Chair, Global Development Learning Network